Side Gates
Made-to-Measure side entrance gates built in Ireland. Get delivery or click and collect!
VIEW SIDE GATES
Fully Made to Measure
Our side gates are made to your exact measurements while still being affordable.
Gate, Frame, Hinges & Lock
We can supply your gate with just the frame, or with a full hardware set.
Fast Delivery
Nationwide delivery service with the option to collect from our Dublin shop (Mon-Fri 9am - 5pm).
Side Gates
Our side entrance doors combine privacy, style and functionality and they are the perfect choice for anyone looking for a made-to-measure side gate.
Side gates are available in a range of styles and designs so that the outside of your home can be just as stylish as the inside!
One reason people choose to have a quality side entrance gate is for security purposes. For most homes, the garden can propose a potential entrance point for unwanted visitors. Having a large and sturdy gate can deter people from entering and make it harder to gain access to your property.
Side gates are also perfect for keeping your garden closed and are a must-have for pet owners. Choosing one of our gates will help to ensure your much loved furry friends will be kept safe and unable to escape when they are left unsupervised.
For added security you can install a side gate and combine this with an electronic locking device. These devices can work with any of our garden gates so you can choose a traditional style and add modern security to protect your home.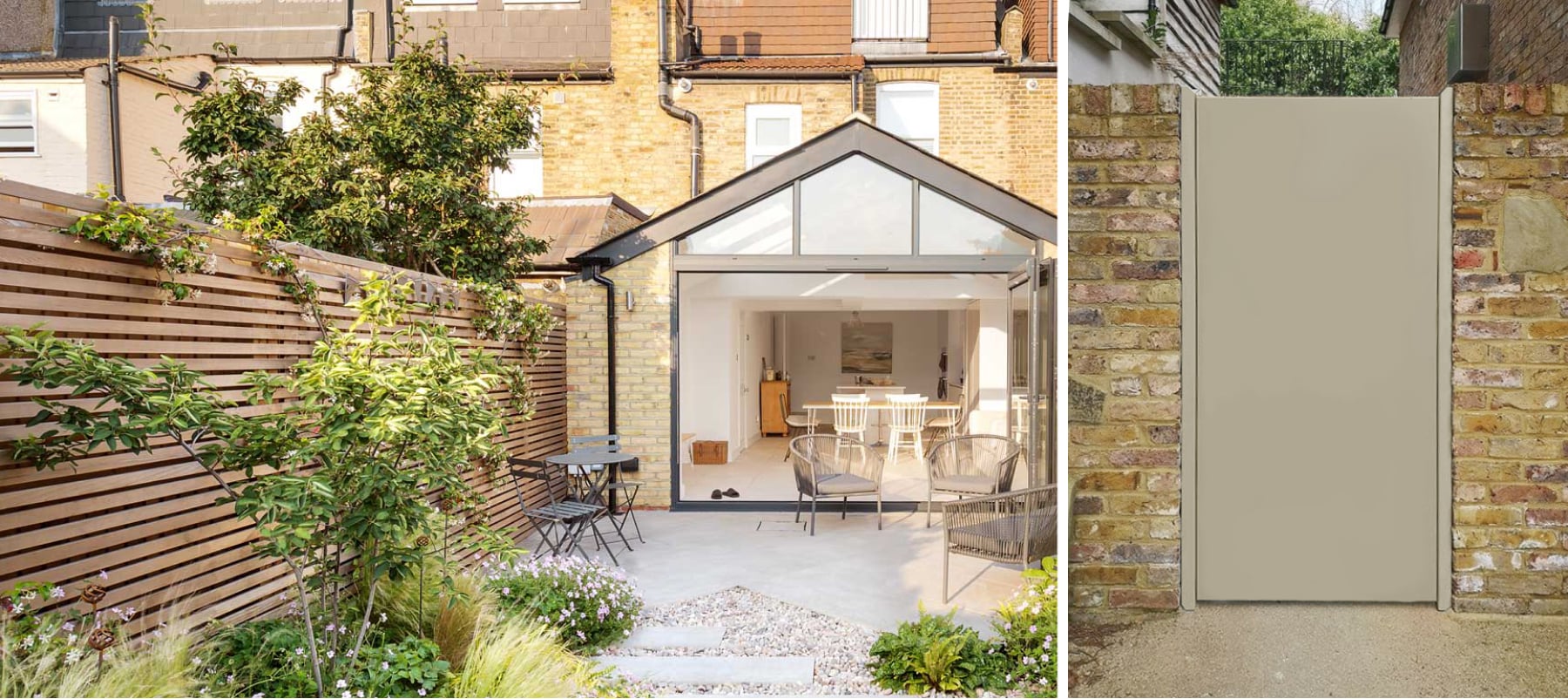 Side Gates Ireland
Irish people are known for being great hosts and our hospitality is world-renowned. Side gates Ireland are the perfect way for friends and family to drop in and enter your home.
Offering access through the side gate and letting your visitors go straight to the outdoor seating area is an excellent way to welcome guests and allow them to make themselves at home.
There are various styles of traditional side doors, but you will often see these doors on newer and more modern properties too. These gates are extremely versatile and can be finished to complement the style and period of your home.
Side gates will usually be there to separate a driveway from a garden. With the rise in electric cars, side entrance gates can be used to create a charging enclosure and separate this from the rest of the front garden.
With this design, the EV charger remains sheltered and allows the driver easy access to the garden from the enclosure — an easy way to gain access to the property without taking up the amount of space that a garage normally requires.
All our side gates are made to measure in our factory in Dublin. Built from durable, weatherproof Medite Exterior (MedEX), our gates are built to last and will easily withstand the famous Irish climate.
You need to make sure to use a good quality brand of outdoor paint (like the Dulux Weathershield range).
Standard Side Entrance Gates
These are always a great addition to your home. Easy to order and install, these gates combine simple designs with privacy and security. For additional security we can supply them with all the hardware, including a sturdy rim lock.
Arched Side Entrance Gates
Arched side entrance gates are classic designs which are the perfect combination of elegance and simplicity. They offer a truly timeless look that is perfect for any period of property.
Decorative Side Entrance Gates
Using our CNC router technology we are able to produce side gates in a range of designs. Our decorative side gates are great for contemporary and modern properties and can really add something special to the front of your property.
Why not browse our range of decorative side entrance gates for inspiration or contact our team who will be happy to design something bespoke!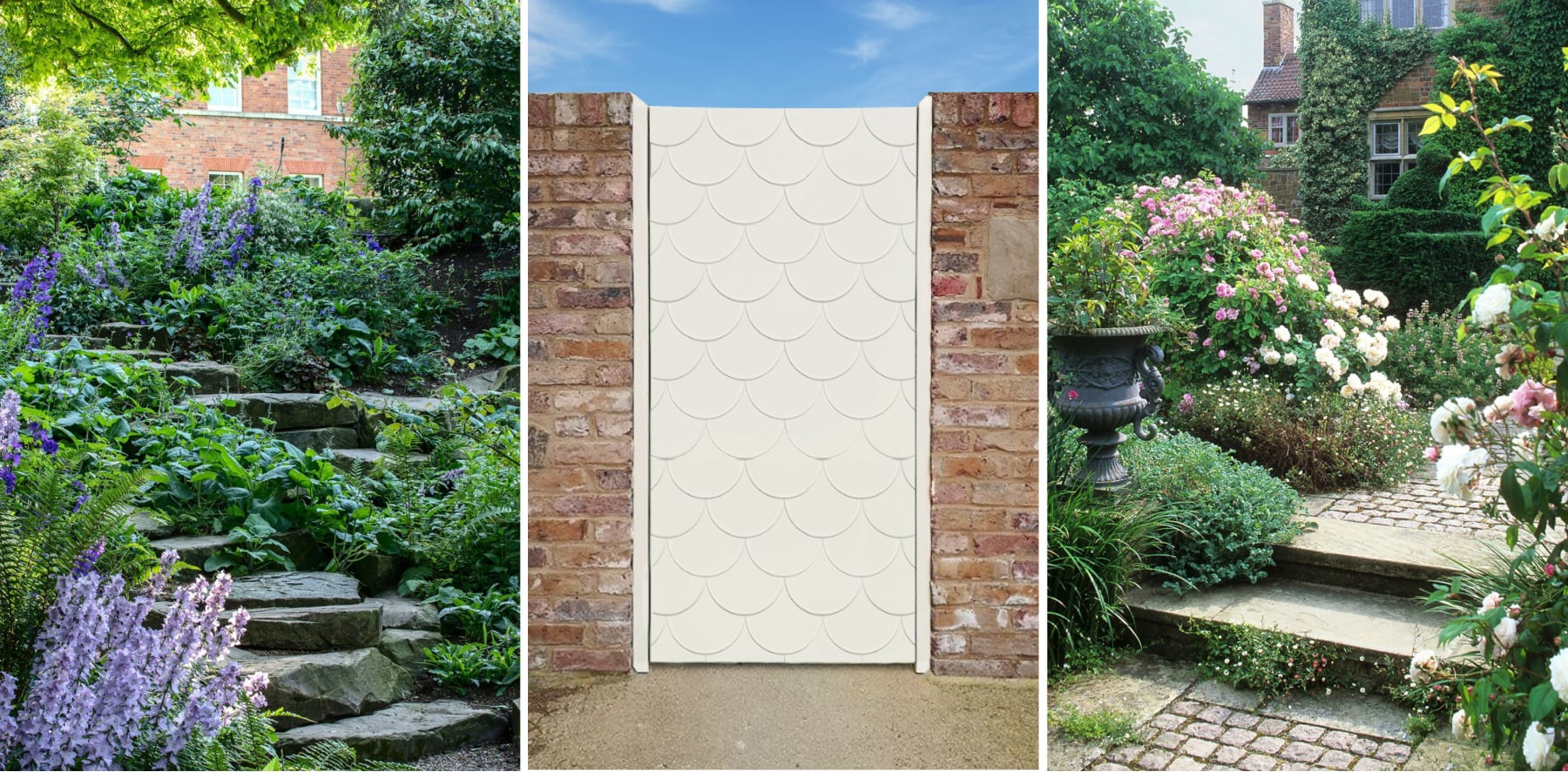 Choosing a Side Entrance Gate
Best Materials for Side Gates
Our products are made from Medite Exterior (often called MedEX) which is considered one of the wood products for outdoor use at a fraction of the price of heavy duty products like Tricoya.
Durable and lightweight, our gates are built to withstand the elements and last for many years. By ordering a gate with us you are sure of top-quality at an affordable price.
Made-to-Measure Side Gate Prices
From a value and quality perspective we offer some of the best side gate prices in Ireland.
Our side gate prices start from €275 and there are a few factors that can affect the final price of your gate. Browse through our range of designs, find a gate you like and you will see all the options and prices right on the product page, available to be ordered immediately.
How to Change Your Gate
Changing your side gate is a much simpler process than homeowners often expect.
The most important step is ensuring you have measured the opening correctly and ordered the correct size gate. Having an electric drill will ensure the task is straightforward.
Once your frame is fixed in place, simply fit the hinges and handle to your gate and then attach the door to the frame! If you do need help, get in touch with our team and we would be happy to guide you through the installation process.
Garden Gate Styles
It is important when you choose a garden gate style to consider how it fits with the rest of the aesthetic and look of your home.
A well chosen garden gate can completely change the feel and design of your outside space. We all know that first impressions count, so make sure that your gate catches the eye — it's often one of the first things people see!
When it comes to selecting the perfect garden gate style, there are many options to choose from and consider.
The shape of your gate is important. A tall square side door is perfect if the entrance is built into a wall for added security. On the other hand, a curved gate is a great choice when a gate is between two walls and we can provide our gates in an arched top version on request.
The colour of your gate is a fantastic way to make a statement with your side gate.
If you have a dark or grey stone wall, you could opt for a traditional look and paint the gate white.
If you are a budding gardener and have planted lots of flowers, we recommend opting for a bold mediterranean colour — such as yellow or orange — to match your blooms.
Different shades and tones of blue are also great for gardens. Choose a subtle hue of blue for a great all-year round choice that compliments the different seasonal colours that will appear in your garden.
Contemporary bright colours are also a great way to achieve a bold design with your side gates and add flair to the exterior of your home. You can also match the colour of your front to that of your side entrance gate for a sense of cohesion.
If you want a really creative addition to your garden you could opt for a patterned gate and matching garden screens for a real wow-factor in your garden.
Not only are garden screens a great way to create different zones in your outdoor space, they also are artistic features in their own right and can really help you to maximise the use of your garden during the dryer times of the year.