Internal Doors
The Best Internal Door & Handle Shop in Ireland. Get delivery or click and collect!
SEE OUR DOORS
Quality Internal Doors
Internal Doors to suit any home design. Classic and modern styles, as well as doors with glass.
Any Size & Finish
We supply all the standard door sizes in different designs, patterns and materials.
Fast Delivery
Nationwide delivery service with the option to collect from our Dublin shop (Mon-Fri 9am - 5pm).
Have you moved home and are looking to start a renovation project, or are you planning a home extension and are working out the details of the interior design?
Or you might simply be looking to decorate and put your mark on your home. Replacing your internal doors is a great way of making a simple change in a house that can make a big difference.
We offer a range of internal doors available in different styles and sizes to suit your needs.
You are sure to find an internal door that compliments your design. Choosing to fit your home with the same door throughout provides a sense of continuity to your property and helps to ensure your house looks great.
Choosing interior doors can be an overlooked part of any home improvement project. However, a well-chosen style adds so much to a room.
Depending on the type of door and its location, they can help to make a room feel lighter, cosier or more private, as well as opening up a space and improving the flow of your home.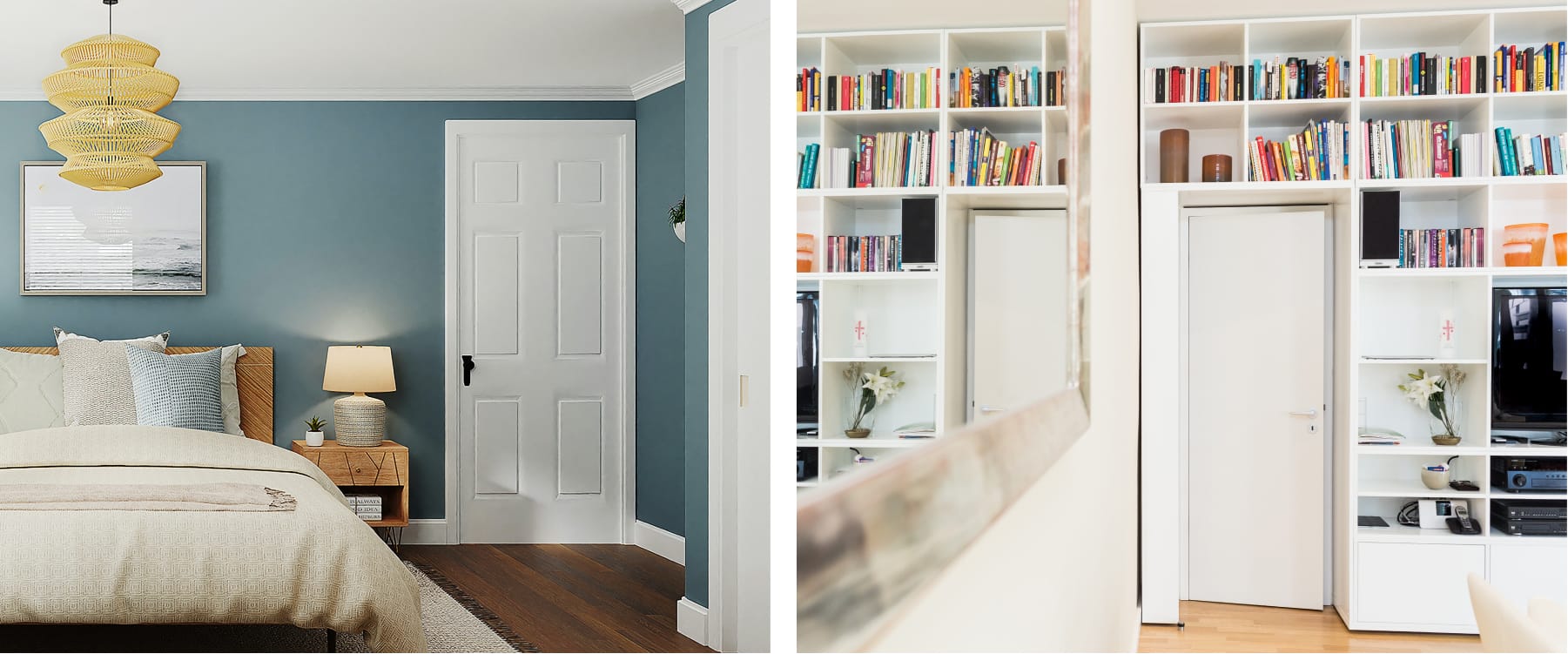 Internal Doors
As well as functional purposes mentioned above, the perfect interior door for your home can make an attractive design statement and even add value to your property.
A key thing you should consider when choosing internal doors is selecting a door that fits with the period and design choice within your home.
For period properties you will want to choose a more traditional style door. We have a number of routered doors in this style to offer a more classic look and feel.
For more modern properties with a contemporary design, one option is internal doors that are plain (also known as flush or flat interior doors) to contribute to a sleek and minimalist feel. However, we know that contemporary design has such a vast meaning that it is worth checking out our whole range of doors to find one that suits your needs!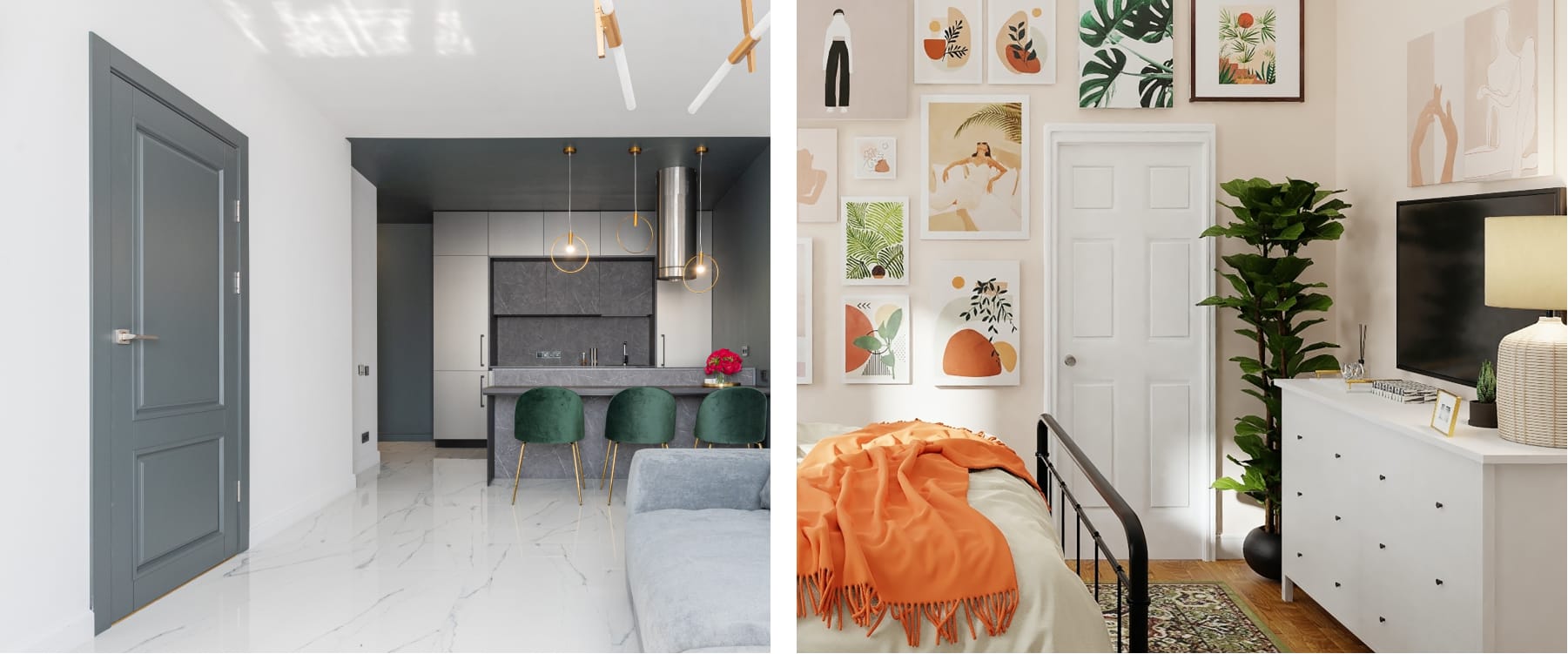 Internal Doors Ireland
As a top supplier of Internal Doors Ireland we know that providing exceptional quality doors at affordable prices is essential for our customers. We stock a range of doors which can be used in both commercial and residential properties.
Available in raw pine or primed, our doors can be ordered directly from our website and delivered quickly. Browse our website to see the traditional and contemporary style interior doors we offer.
Our doors can be finished in white, grey, or bold and bright colours to complement your colour scheme. Choosing to paint your internal doors is a great option. Not only are they simple to repaint over time so they continue looking good, but they can also be included as part of a redecoration project to change the design scheme of a room.
Painted doors can match the whole room to give a designed feel — this is a popular interior design trend.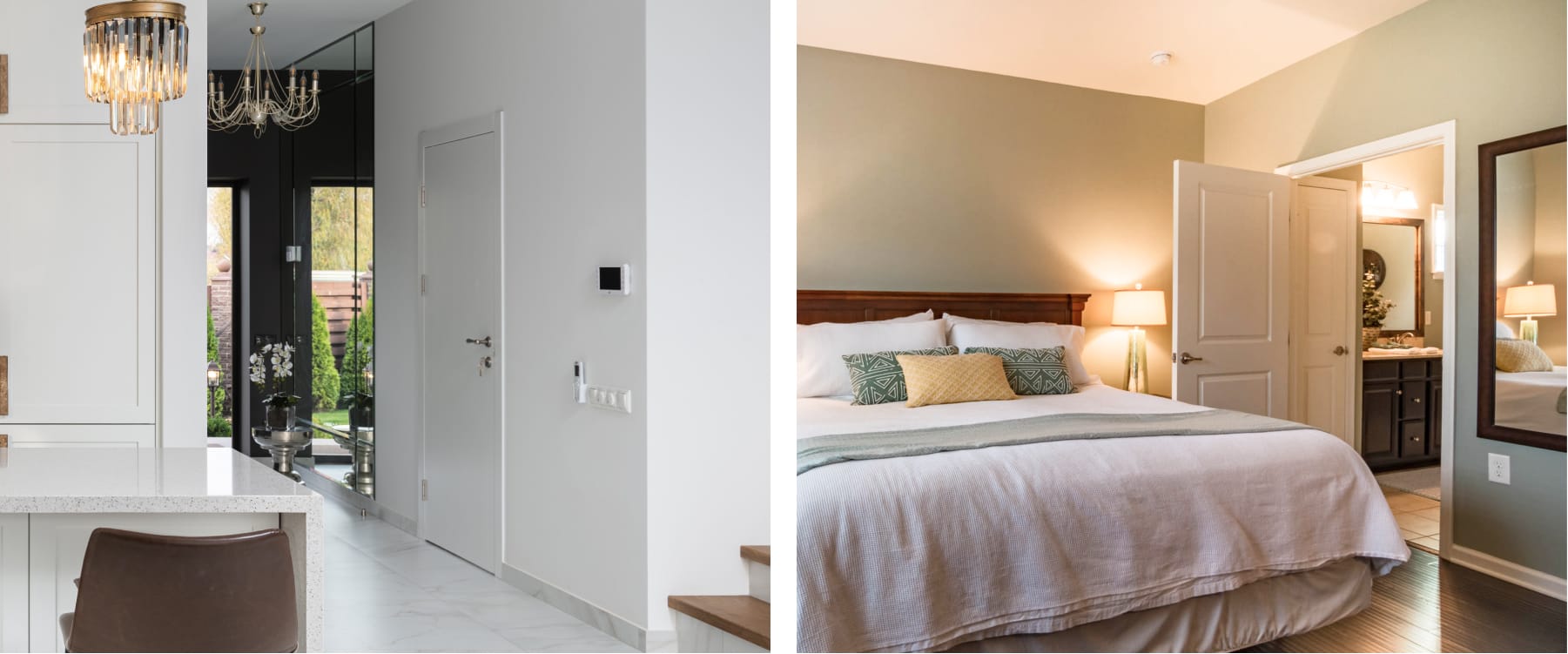 Types of Internal Doors
When choosing to replace or fit new interior doors, there are many different options available on the market.
Choosing new doors is not just about replacing them with a similar style. It is a great opportunity to make a design statement or add some new character to your home. But with so many different designs to choose from, you may be asking yourself: which door should I buy?
There are many internal door types and designs on our website, each with their own advantages. Ultimately choosing new doors should be a combination of preference and functional purposes.
---
Below we have listed some of different types of interior doors on offer to help you make the right selection:
Standard Interior Doors
Most of our standard doors are offered in a raw or primed finish, and some models can be had in a solid oak construction. These doors encompass a range of styles to suit your home. From traditional to contemporary designs, we've got a whole selection for you to choose from. Our standard doors are ideal if you replace your doors with one of the same size or a newer model of the same door.
Prehung Doors
For quick and easy installation of internal doors, prehung doors are the perfect choice. These doors are ready to go and come complete with hinges and frame. Although you might pay a little more than for a standard door, they are an efficient and simple way to replace interior doors in your home.
Internal Fire Doors
There are some situations which require fire doors to be fitted in your home, and they make a lot of sense in offices and commercial settings. Fire doors are thicker than standard doors and built to delay the spread of fire, smoke and fumes through a building. Building regulations stipulate where it is necessary to include internal fire doors, and it is worth considering placing them in rooms where there are higher chances that a fire could occur such as the kitchen or rooms with a fireplace that's in frequent use.
Oak Internal Doors
We are able to offer certain models of our doors in solid oak, which can help to bring a light natural look to your home. Oak doors are timeless and a simple but classic design addition to your home.
White Internal Doors
Our doors are available primed and ready to paint in a colour of your choosing. However, we recognise that white internal doors remain a popular choice and therefore are often able to offer doors finished in white upon request.
Kitchen Doors
Doors for kitchen cabinets tend to only look their best for several years, after which you might consider a small renovation. Kitchen door replacements are easy to do and you can order your new doors online, fully bespoke and made to your exact measurements. Click here to order kitchen doors in any style and colour that you like.
Contact us for a Quote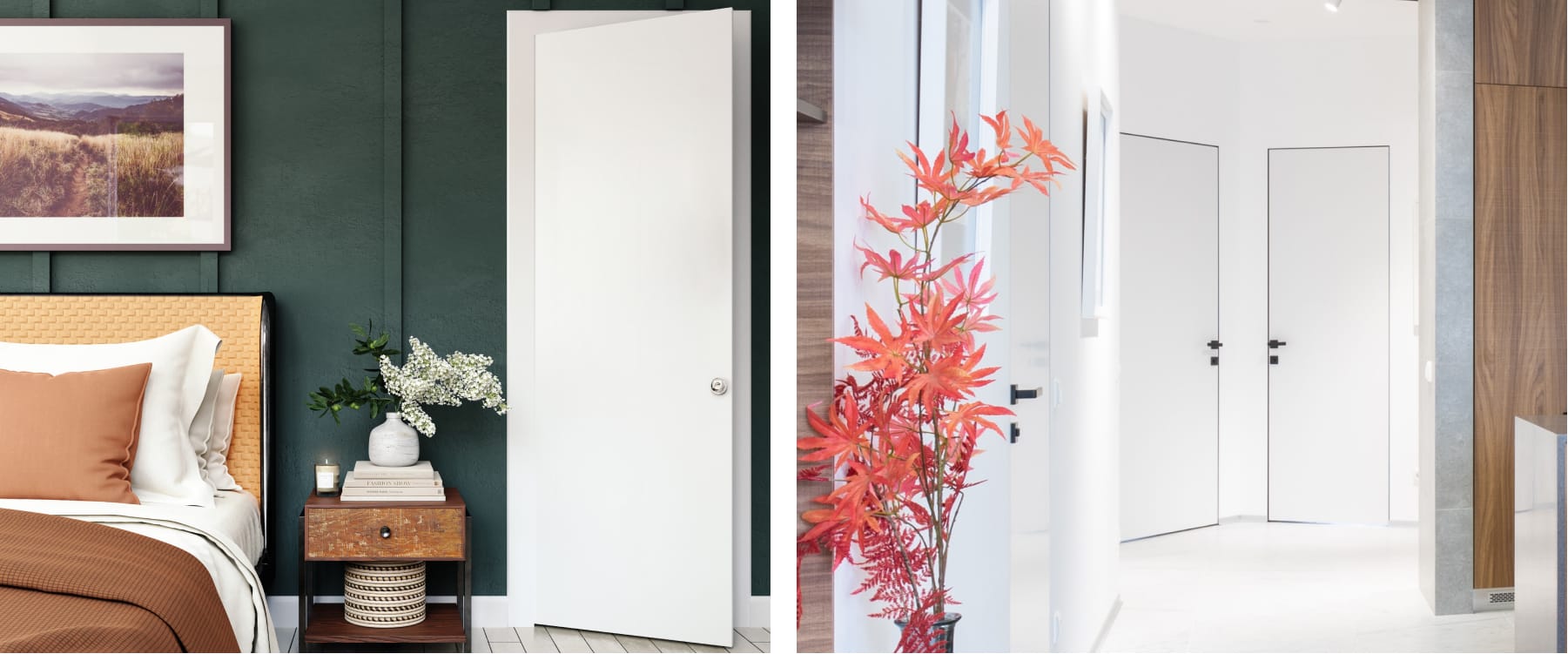 Standard vs. Prehung Doors
We offer both standard and prehung doors and each has their own benefits listed below to help you make your choice:
Standard Doors
Cheaper than pre-hung doors (but may need to purchase the frame and hinges)
Good option for replacing a similar existing door if you have the time and ability
Prehung Doors
Complete Package: door, frame and hinges included and attached
Easy to install
Good option for replacing several doors in a time-effective manner
Internal Doors with Glass
Internal glazed doors are a fantastic option if you are looking for a way to help a room receive more natural light. They are a timeless design piece and a great addition to any home.
One place where we often see internal doors with glass included is within the downstairs living space. In particular, they are great as an entrance to a kitchen. If you are considering creating a larger open plan kitchen and dining area, these doors will help to bring natural light and an airy feel to your space.
Kitchens are often considered the heart of the home and it is therefore no wonder that people often choose to re-design this space. In recent times, kitchen designs have included boldly designed cabinetry featuring stylish colours and materials.
When considering how to design your new kitchen, coordinating the colour of your kitchen doors with the internal doors in this space is a great way to create a well-designed look.
Navy, dark greens and greys all remain on trend. Alternatively you could choose to complement the colour of your kitchen doors with a different shade to your internal doors and frames. There are so many options!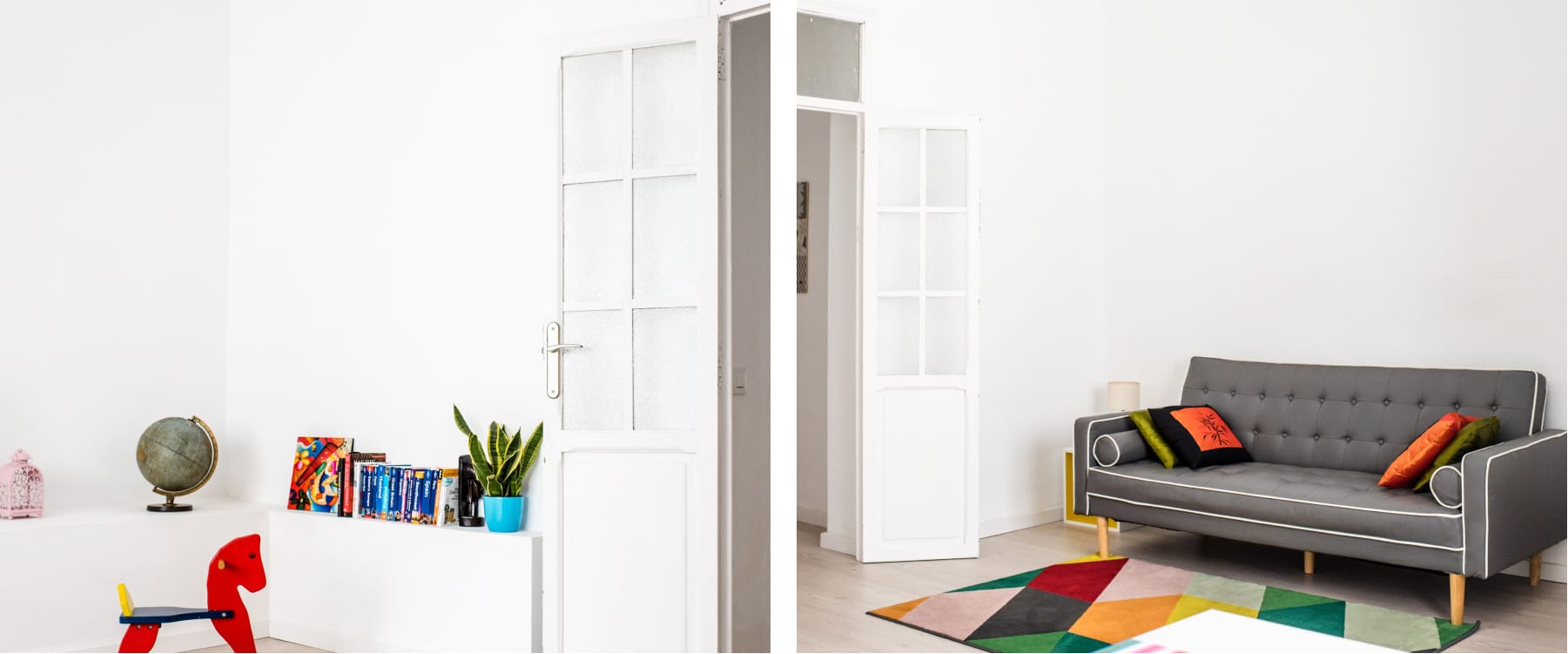 If you prefer to have your downstairs living space separate to maintain some privacy between rooms, interior glazed doors can help to achieve this.
A space people often choose to have divided is between the living room and the dining room. Choosing to have glass interior doors here ensures that both rooms retain a light feel and the doors can also be opened on occasions when you need a larger space.
Glass doors are also great if you want to separate the area with your dining table from your kitchen to create two different spaces.
Dining tables have many different purposes from hosting a dinner party, to having a drinks party with friends or, in more recent times, a space for working from home.
If you do have an open plan kitchen, consider separating an area with a stud wall and adding an internal door with glass to create a perfect dining space when you want a bit more privacy.
A further place people choose to include internal doors is in smaller spaces which receive little natural light. Home offices, laundry rooms and toilets are some of the spaces which benefit from borrowed light. Of course, for your toilet, you will want to ensure you choose a door with frosted glass!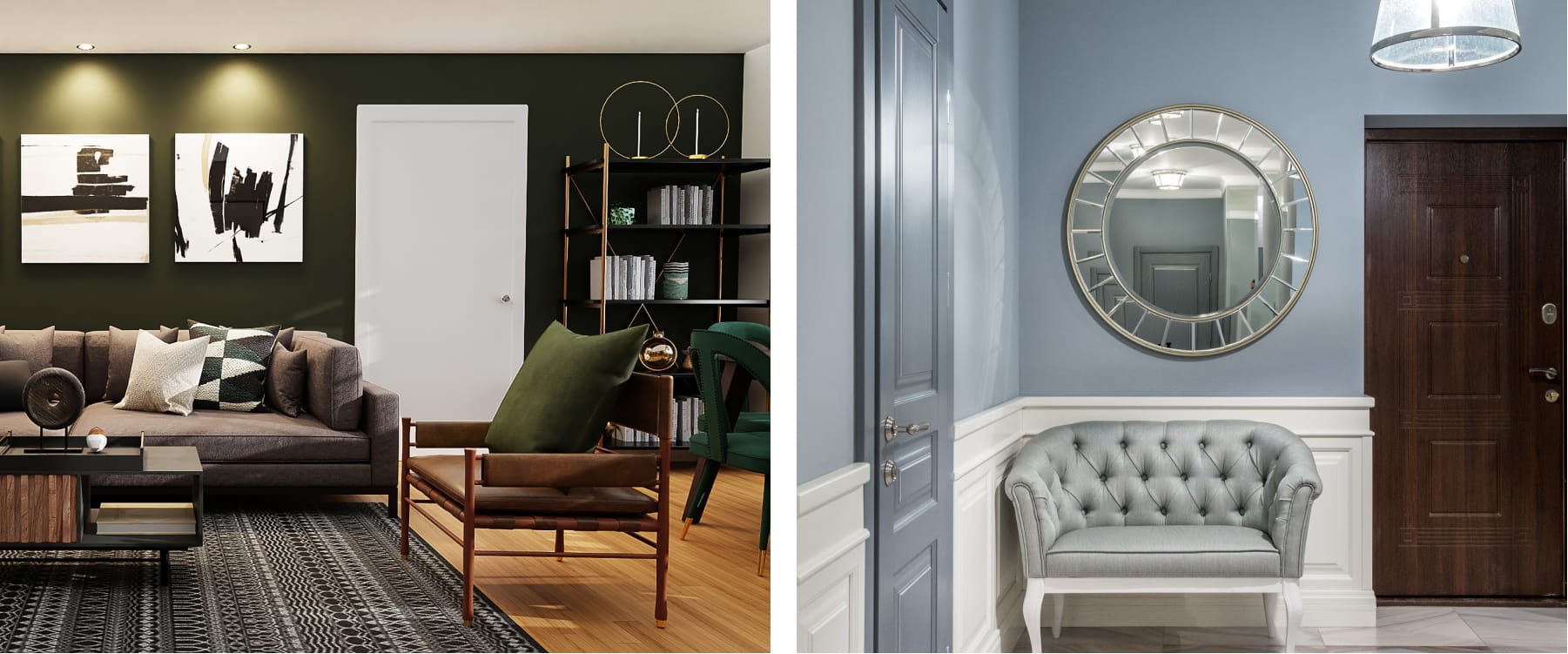 Quality Range of Handles
As well as providing a range of internal doors, we also provide accessories to finish the project of replacing your doors.
We supply a quality range of handles and fittings. Browse our website or contact our team who will be happy to help you.
Best Interior Doors & Handles
We supply a range of internal doors for your property. Whatever style you are looking for we can help you find a door to suit your needs.
Get in touch with our team today who will help you find the best interior doors for your home!